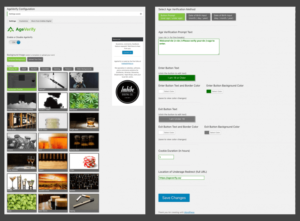 With our latest WordPress plugin update, we've taken a giant leap forward in features and functionality. Pro users of our WordPress plugin can now edit the button or DOB input colors, as well as upload their own custom background images. These new features compliment the existing feature set of configuring your cookie duration, setting the underage redirect location and configuring all text for any language. Additionally, we've updated the Basic plugin to make it 100% ad free, our most common request.
We have a lot of great features lined up for future releases later in 2019.
You can get the Basic AgeVerify plugin here: https://wordpress.org/plugins/ageverify/ and upgrade to a Pro or Custom instance here: https://ageverify.co/wordpress-upgrade/.